We are hardly into 2022 and another award success! This time we are recognised as one of Clutch's 2022 Leading Companies in the UK for Social Media Marketing.
Today, we're excited to share with you that we've been included in Clutch's list of the top B2B companies in the UK. According to their 2022 research, we're one of the leading social media marketing companies, along with some of the best in the industry!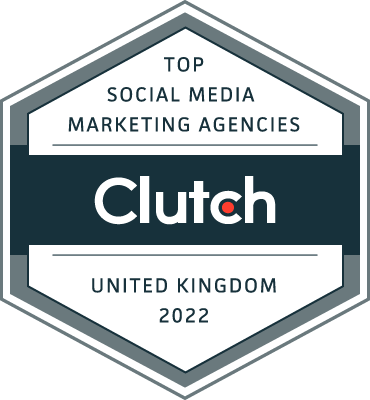 If you don't know, Clutch is an established B2B reviews platform that helps firms across the globe connect with the solution providers that they need to improve effectiveness and increase productivity.
To be eligible for a Clutch Leader Award, companies must exhibit an unusually high ability to deliver top-tier work to their clients. Receiving this award is no small feat, and we're extremely appreciative of this recognition.
"This is a real testament to our team and the hard work that every single member has put in supporting our clients through very challenging conditions," says Simon Morris our Managing Director.
More importantly, this is a joint effort between us and our partners. Thus, we'd like to express our gratitude to all our partners for helping us get to where we are today! Check out the most recent reviews from our clients.
"I value them because they produce high-quality work in a timely manner." — Co-Founder, Luxury Watch Retailer

"Being able to call them and just get their thoughts on any ideas we have has been a huge asset to the collaboration."

— Head of Marketing, Training Consultancy Firm
Do you need support from an award-winning team? We'd love to hear about your project! Let's discuss how we can help your business today! Contact us here...